Little Tiger martial arts classes in the Waltham MA area
If you are looking for a fun, new activity for your 3 to 5 year old child, consider Us Tae Kwon Do Center's Little Tigers martial arts classes for preschoolers and kindergarteners.

Specially designed for young children, our martial arts classes will keep your son or daughter excited to come to class every time.

At Us Tae Kwon Do Center, we provide preschoolers and kindergarteners:

• Increased focus and self-control
• A structured learning environment
• Patient and enthusiastic instructors
• An early introduction to exercise for building life-long healthy habits
• A great outlet to burn off excess energy

At Us Tae Kwon Do Center, we understand the unique challenges preschool and kindergarten age children present to both parents and teachers. Through Tae Kwon Do your child will gain greater focus, which will carry over to home and school as well.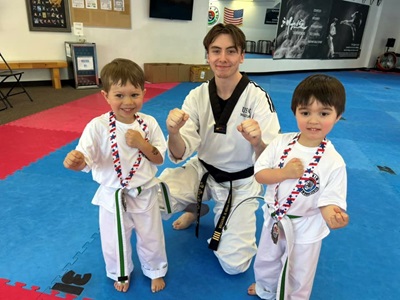 Getting started is easy at Us Tae Kwon Do Center
• We offer a flexible class schedule at each of our locations, allowing you to come to
classes at times that work best with your schedule.
• Beginners are always welcome - no prior experience is necessary.
• AND our trial Program includes private lessons, group classes,
and a free Tae Kwon Do uniform - everything you need to get started.




Read More