Adult martial arts classes in the Waltham MA area
Our adult martial arts classes are designed to improve flexibility, balance, endurance and strength while teaching self-defense techniques.

The benefits of martial arts classes at Us Tae Kwon Do Center:

• Knowing self-defense
• Better health and wellness
• Less stress
• Increased confidence
• The chance to learning something new
• A fun form of exercise
• Meeting friendly people
• Being part of a positive and encouraging atmosphere

WMost of our adults join with no experience. Our instructors are always receptive to your questions and will take the time to teach you step-by-step, with patience and enthusiasm.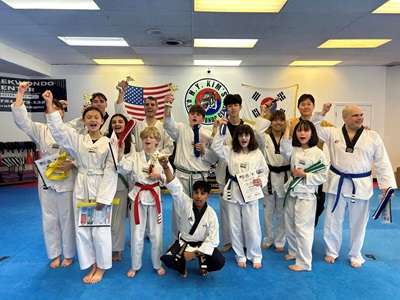 Getting started is easy at the Us Tae Kwon Do Center
• We offer a flexible class schedule at each of our locations,
allowing you to come to classes at times that work best with your schedule.
• Beginners are always welcome - no prior experience is necessary.
• AND our Trial Program includes private lessons, group classes,
and a free Tae Kwon Do uniform - everything you need to get started.

"I hate, hate, hate exercise, but I love, love, love Tae Kwon Do. When I'm feeling particularly stressful, who doesn't like to come and kick and punch and yell?" ~Jon Graman

Read More