Children's martial arts classes in the Waltham MA area
Us Tae Kwon Do Center's martial arts classes for kids provide benefits immediately, with results that last a lifetime.
At Us Tae Kwon Do Center your child will learn:

• Better focus and concentration skills
• The importance of courtesy and respect
• Self-control and cooperation
• Coordination and the benefits of exercise and physical fitness
• How to set and achieve goals
• Commitment and not giving up when faced with challenges

Teachers and parents often notice a dramatic difference when a child begins martial arts classes - they listen better at home, put more effort into schoolwork, and receive better grades because of martial arts.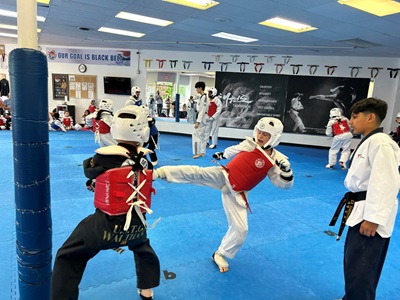 Choose Us Tae Kwon Do Center
At Us Tae Kwon Do Center, we know how to bring out the best in every child. For over 18 years we have been teaching kids how to increase their focus, confidence, and self-discipline through Tae Kwon Do.

To achieve success, students are taught everything step-by-step in a positive and encouraging environment. Our feedback focuses on what a student is doing right, and how we can help them reach their full potential.

Getting started is easy at Us Tae Kwon Do Center
• We offer a flexible class schedule at each of our locations, allowing you to bring your
child to classes at times that work best with your schedule.
• Beginners are always welcome - no prior experience is necessary.

Read More